Come celebrate our 50th anniversary with us!
1967 marked the birth of Fermilab. That year the lab hired its first employees and began operations in Illinois.
To celebrate our 50th anniversary, we are offering numerous events for the public to enjoy, to find out more about our laboratory, and to learn about the research we do to advance humankind's understanding of energy, matter, space and time. Fermilab has an exciting history of discovery and innovation and has made important contributions to the ultimate goal of understanding how the universe works. And we have ambitious plans for new research projects in the years ahead.
We welcome you to tour our laboratory, see our exhibits, take in a show, view our art gallery, enjoy the view from the 15th floor of Wilson Hall and ask a scientist about the universe. Our site is open to the public every day of the year, and we offer many education, arts and visitor programs for the public to enjoy.
The highlight in 2017 will be our big Open House on Saturday, Sept. 23. We'll post more information and registration information in the spring of 2017. We also will add additional photo galleries, a history timeline and other information to this website throughout our anniversary year, so come back and visit!
Here are the main events we have planned for 2017: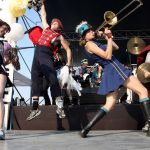 Concert and kickoff party
Saturday, Jan. 21, 2017, 7 p.m.
Join us for a concert by Mucca Pazza at 8 p.m., preceded by a party with dessert, music, an art exhibit, Einstein, Mr. Freeze and some very cool science demos at 7 p.m. Tickets are required.
Fermilab Colloquium: Enrico Fermi: The Pope of Physics
Wednesday, Jan. 25, 2017, 4 p.m.
University of Pennsylvania scientist Gino Segre and writer Bettina Hoerlin discuss the incredible achievements of Fermilab's namesake, Enrico Fermi, especially how he was shaped by history and how he, in turn, shaped history. This event is free.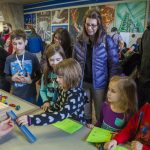 Annual Family Open House
Sunday, Feb. 12, 2017, 1-5 p.m.
Bring your kids to Fermilab's annual Family Open House in Wilson Hall with hands-on activities for the entire family. Event is free and supported by Fermilab Friends for Science Education.
PechaKucha Night Batavia
Thursday, Feb. 16, 2017, 7 p.m.
Fermilab hosts PechaKucha Night Batavia, which is an informal and fun gathering where creative people get together and share their ideas, works, thoughts in the PechaKucha format: 20 slides, 20 seconds each.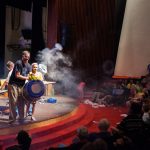 Annual Wonders of Science show
Sunday, March 19, 2017, 1 p.m.
Watch amazing science demonstrations at our annual Wonders of Science show. Tickets are required.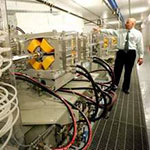 Lecture: Cancer Treatments and Particle Accelerators
Friday, March 24, 2017, 8 p.m.
In the 1990s, Fermilab built the first proton accelerator dedicated to cancer treatment at a medical center. In this Lecture Series talk, scientist Mark Pankuch discusses cancer treatment using proton accelerators, available at about a dozen centers across the United States. Tickets are required.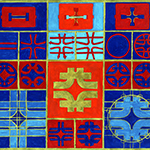 Angela Gonzales art exhibit opening reception
Thursday, June 1, 2017, 5 p.m.
Fermilab founding director Robert Wilson hand-picked artist Angela Gonzales to help create a visual identity for Fermilab. "A Lasting Mark: Artist Angela Gonzales at Fermilab, 1967-1998" showcases her bold, inspiring work over 31 years at the lab. The exhibit will run from June 1 to Sept. 30.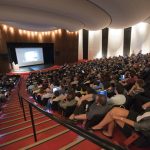 50th Anniversary Symposium
Wednesday, June 7, 2017 – by invitation only
Fermilab invites scientists from around the world to gather and discuss the lab's achievements and plans for the future. More information and registration page will be posted in spring 2017.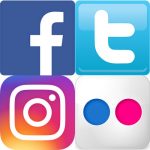 Social Media Celebration
Thursday, June 15, 2017
Fermilab's was the third website in the United States. So what better way to recognize our birthday than with an online celebration? Join us through social media to celebrate Fermilab's 50th birthday. It was on June 15, 1967, that the lab's first employees reported to work in an office in Illinois.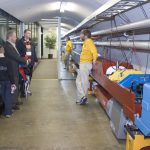 Open House
Saturday, Sept. 23, 2017, 10 a.m.-4 p.m.
Take behind-the-scene tours of the major research facilities at Fermilab. Event is free. More information and registration page will be posted in summer 2017.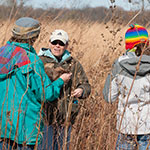 Prairie Seed Harvest
Saturdays, Sept. 30 and Oct. 28, 2017, 10 a.m.-2 p.m.
Help restore tallgrass prairie at our seed harvest. This long-standing tradition complements the vision of founding director Robert Wilson to surround those working on the smallest pieces of nature with a natural laboratory. We'll present on 50 native plant and animal species. Hot dog lunch is provided.
In addition to these special events, Fermilab offers numerous tours and programs throughout the year:
Science and education programs
For more information and a calendar of all public events, visit events.fnal.gov.
Past events
Colloquium: Fermilab and the Foundations of the Standard Model
Wednsday, Jan. 11, 4 p.m.
Scientist Dan Green discusses Fermilab's leadership in the exploration of the Standard Model throughout its 50-year history. Now exploration beyond the Standard Model is the future, with Fermilab hosting DUNE and CERN hosting the High-Luminosity LHC. This event is free.