Come celebrate our 50th anniversary with us!
1967 marked the birth of Fermilab. That year the lab hired its first employees and began operations in Illinois.To celebrate our 50th anniversary, we are offering numerous events for the public to enjoy, to find out more about our laboratory, and to learn about the research we do to advance humankind's understanding of energy, matter, space and time. Fermilab has an exciting history of discovery and innovation and has made important contributions to the ultimate goal of understanding how the universe works. And we have ambitious plans for new research projects in the years ahead.
We welcome you to tour our laboratory, see our exhibits, take in a show, view our art gallery, enjoy the view from the 15th floor of Wilson Hall and ask a scientist about the universe. Our site is open to the public every day of the year, and we offer many education, arts and visitor programs for the public to enjoy.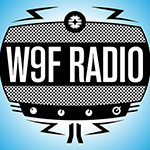 Fermilab Amateur Radio Club commemorates 50th anniversary
Dec. 2-17
Communicate with Fermilab experts via long-distance radio. The club has established a call sign for this special two-week event: W9F. They'll operate daily on all frequencies and modes. Anticipated frequencies of operation are 14.260, 14.340, 7.250 and 7.275 MHz. There may also be operations on 7.040, 10.130 and 14.040.
Fermilab offers numerous tours and programs throughout the year:
Science and education programs
For more information and a calendar of all public events, visit events.fnal.gov.